HR Shaman
Books and Products

Health Products: Uni Key Health Products
Susana is an affiliate seller for all products in their catalog. She specifically recommends taking responsibility for your own health by monitoring your needs via their mineral hair analysis and hormone saliva testing.
Tissue Mineral Analysis
https://www.unikeyhealth.com/product/Tissue_Mineral_Analysis?a=1029


Salivary Hormone Test
https://www.unikeyhealth.com/product/Salivary_test?a=1029

The Complete Testing Category... in case you would like to link to that.
https://www.unikeyhealth.com/category/Parasite_Testing?a=1029


Healing and Life Coaching Book: Being Centered
by Roman Oleh Yaworsky
This is a must read book. It outlines how we become separated from our own heart and feelings and how we can return to our joy and power. Given the depth of understanding, it is amazingly easy to read. Practical and insightful, it lays the foundation for true healing. I highly recommend it. More


Energetic Protection: The Protective Heart Kit
At the request of her clients, Susana Sori has created a kit with instructional booklet that protects your energy and energetic field from the disharmonious and negative influences around you. More


Living Will: The Five Wishes
The Five Wishes is the first living will that talks about your personal, emotional and spiritual needs as well as your medical wishes. The Five Wishes lets you say exactly how you wish to be treated if you get seriously ill. It was written with the help of The American Bar Association's Commission on Law and Aging, and the nation's leading experts on end of life care. It is easy to use. All you have to do is check a box, circle a direction or write a few words. More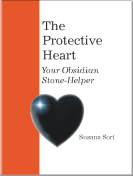 The Protective Heart Kit™
Your Obsidian Stone Helper
Although one must ultimately heal oneself, the process of healing may be facilitated through the catalytic presence of many things, people, or places. Stones and many other mineralogical structures have been used for centuries as catalysts and to help one reconnect with the powerful light that resides within us all.

In all its variations, Obsidian is an excellent protective stone. Obsidian stabilizes inner and outer energies gently protecting one from that which could bring physical or emotional harm. This stone shields us against negativity by transforming the non-coherent vibrations that may surround us, or that may arise from within us, into pure light and beneficial energies.

We have used Obsidian as a Protective Stone Helper for many years and we recommend it to you without hesitation.

Each Obsidian stone has been cleansed and activated through a shamanic ceremony, and programmed for your individual protection as explained above. The Obsidian Heart Pendant, cleansed and activated for your protection, can also be purchased without the kit.

The Protective Heart Kit™ includes:
1 Obsidian Protective Stone, shaped as a heart (Chain not included)
1 Candle
1 Container for heart, glass or crystal
(Choose 2 container preferences from photos, and I will do my best to match one.)
1 Small bag of sea salt for clearing the energy of the stone
Booklet with information about wearing, clearing and maintaining the protective energies of the stone.

ORDERING your Protective Heart:
Be specific about what you are ordering
Tell us the quantity of each item you are ordering. If more than one of each, I will email you the new total. Please include you shipping address and phone, should we need to contact you about your order. When we receive your email, we will email your order confirmation and the payment address.

Order by email

Directly from HR Shaman

Florida Residents
7% tax and $2.00 handling fee will be added to your purchase.
Shipping cost included to Florida.

Protective Heart KIT............... $35.00 + $2.00 tax.+ 2.00.............$39.00 US
Obsidian Heart Pendant only....$18.70 + $1.30 tax + 2.00.............$21.00 US

Continental USA Orders
Handling fee $2.00 US
Shipping included to continental US.

Protective Heart KIT...... $35.00 + $2.00..........................$37.00 US
Obsidian Heart Pendant only.......$18.70 + $2.00..........................$20.70 US .

Hawaii, Alaska and International Orders
Handling fee $2.00 US
Please email me your specific location for exact mailing charges to be configured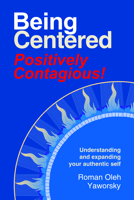 Being Centered:

Paperback
Illustrated
Durable binding
Acid free paper
278 pages

$24.95 US

To order this book
by Roman Oleh Yaworsky
What if you could read a book that took you on the journey of understanding how to live life from your heart, from the moment, from your own joy and from your own power? What if you could read a book that explained not only where you may have sacrificed that joy, but more importantly, the real and effective steps you can take, to get that joy back!

This is not another new age book telling you how to be happy, spontaneous or rich. It is a book that goes to the heart of the matter. It is based on real experience and practical knowledge. It is a book that will transform how you approach your life for yourself. This book is priceless!

Taken from the Introduction

Copyright © 2006 by Roman Oleh Yaworsky. All rights reserved.
Any unauthorized use by whatever means is prohibited.


"The material in this book is intended to help people cross through their challenges and times of transition. For this reason, I have tried to keep things simple. Many of the concepts and ideas are original. Therefore the material of this book may give the reader a different interpretation of the dynamics of growth than is commonly held.

This book started as a set of notes and suggestions that I gave to my clients over the years. I found myself creating these suggestions, partly because I could not find this material anywhere else, and partly because much of what I found, I could not offer easily to my clients. Although there are great texts avail­able that cover phenomenal areas of knowledge and understand­ing. the time and preparation necessary to make beneficial use of these resources takes more effort or devotion than most clients can offer during their personal times of crisis.

In our culture I find many important concepts that define who we are, how we function and how we heal are distorted or ignored. Often, situations that are unhealthy are considered normal, and many of the available structures and support systems seem to be focused on helping us function in society, but do not address living our lives for optimal fullness and poten­tial.

I have taken the premise that being more fully alive and centered not only improves our ability to function in any situation, but also helps to release the hold of our past issues by shifting towards being in the moment and in our hearts. I maintain that the processes and techniques to help us move forward and towards integrity with our selves and our feelings are fairly simple and straightforward to apply in our lives.

This book is intended to shed some light on how we interact, both inwardly and outwardly, how we tend to get stuck, and to offer some suggestions and means to help us return to our true nature, to who we really are. We really are meant to be in joy and in our hearts. We really are meant to share that joy and heart with others, and when we are free to do so, that joy is contagious! "

Roman Oleh Yaworsky

To purchase Being Centered

at Spirit Unleashed



To read a chapter from the book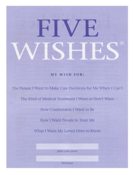 What is it?

Five Wishes is the first living will that talks about your personal, emotional and spiritual needs as well as your medial wishes.

How much is it?

We can send you one to four 12-page living wills for $5.00 US each, postage included if you reside in domestic USA.

Five Wishes lets your family and doctors know:
Who you want to make health care decisions for you when you can't make them.
The kind of medical treatment you want or don't want.
How comfortable you want to be.
How you want people to treat you.
What you want your loved ones to know.

Five Wishes is changing the way America talks about and plans for care at the end of life. More than 14 million copies of Five Wishes are in circulation across the nation, distributed by more than 15,000 organizations. Five Wishes meets the legal requirements in 42 states and is useful in all 50.

Five Wishes has become America's most popular living will because it is written in everyday language and helps start and structure important conversations about care in times of serious illness.

Five Wishes was introduced in 1997 and originally distributed with support from a grant by The Robert Wood Johnson Foundation, the nation's largest philanthropy devoted exclusively to health and health care



To order FIve Wishes
For more information, please refer to

www.agingwithdignity.org
Don't miss the opportunity to shift out of your old life-depleting patterns and move on to your great new life. Experience this healing method as effectively practiced with the lightheartedness and shamanic understanding that Susana Sorí brings
In person Energy Medicine and Life Coaching sessions serving Miami, Miami Beach, Fort Lauderdale and South Florida. Sessions by phone supporting clients locally and internationally.

Request a session

Subscribe to our email list

Return HOME

About Susana

Services & Fees

Contact Information
Graphic images are Copyright © 2000 - 2020 by Roman Oleh Yaworsky. All rights reserved. Titles and text are Copyright © 2000 - 2020 by Susana Sorí. All rights reserved. For more detailed information on our copyright, licensing and for other copyright information pertaining to this website,

click here