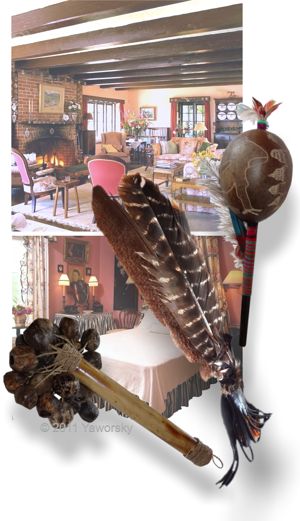 Shamanic Clearing of Past Negative Influences
In Your Home or Work Place
Available in Miami & Fort Lauderdale
There are many reasons why a shamanic clearing of your home or work place may be of great benefit to you, your family or the people you work with.
Clearing the Energetics of Past Relationships
When most people sever an older relationship through separation or divorce, often the space, furniture and other personal items tend to hold or anchor some of the past impressions negative experiences or memories. To move forward, it is helpful to clear your space to support your positive shifts and openness to new experiences.
Clearing the results of Trauma and Negative Associations
Sometimes a new home or apartment still holds the imprints of a past trauma, death or illness of its previous occupants. It can show up as a heaviness in one of the rooms, or a sense that there is something off about the space. A shamanic clearing can help restore the atmosphere and feelings of the space.

Clearing Homes and Workspaces of Negative Past Influences
As a result of past trauma or pervious occupants, a home or workplace can hold the imprints of negative non-coherent patterns and influences. Often, in such a cases their can be a heaviness in the energetics of a home or workplace that can be sensed or felt. Through shamanic means, the negative past influences can be cleared, restoring the positive qualities of the space.
Energetic Clearing and Renewal of Your Home or Office
Once you begin taking steps toward your transformation and well-being, you may begin to move out of phase with old energies and patterns that lodge in the the places you live or work in and in the objects that surround you. A clearing of those energetics will support and help solidify the shifts you are making.
In addition to clearing the space, individual clearings are also recommended, so that the process is complete.
Details
Clearing is currently available in the greater Miami area and Fort Lauderdale. Depending on the square footage of your home or office, a thorough clearing may take anywhere from 2 hours to 3 1/2 hours.
This visit would also include a thorough clearing of the chakras and luminous energy body of the person who lives in that home, and has requested the clearing of the home.
Additional family members, living in the same home, may also be cleared on this visit at an additional, yet reduced cost.

Contact Susana for more information or for a cost estimate for your home or office clearing.
Don't miss the opportunity to shift out of your old life-depleting patterns and move on to your great new life. Experience this healing method as effectively practiced with the lightheartedness and shamanic understanding that Susana Sorí brings
In person Energy Medicine and Life Coaching sessions serving Miami, Miami Beach, Fort Lauderdale and South Florida. Sessions by phone supporting clients locally and internationally.

Request a session

Subscribe to our email list

Return HOME

About Susana

Services & Fees

Contact Information
Graphic images are Copyright © 2000 - 2020 by Roman Oleh Yaworsky. All rights reserved. Titles and text are Copyright © 2000 - 2020 by Susana Sorí. All rights reserved. For more detailed information on our copyright, licensing and for other copyright information pertaining to this website,

click here