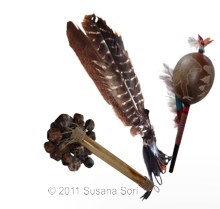 Shamanic Healing
& Energy Medicine
Healing the Energy Body
The shamanic healing and energy medicine services, outlined below, are offered in-person and or by phone or by proxy.
Soul Retrieval
This is truly a beautiful art: that of recovering the essential self that has been lost as a result of stress, pain or trauma. From these types of discordant experiences. some of the soul energies are fragmented, dispersed or denied. Stepping outside of ordinary time on the client's behalf, the practitioner journeys into the subtle realms that hold those separations, the domain of the client's shadow, to find the outdated promises and old soul contracts which are still binding them. Healing the wounds from the past that derailed their destiny, the shamanic practitioner brings their client's core spirit energy back into the present so that it is available to them and they may live in wholeness once again.
Illumination
The shamanic process of Illumination clears the energetic imprints of karma and disharmony that often result in disease and bring about healing at the blueprint level of our being - at the chakras, energetic pathways and luminous energy field. Illumination can relieve or undo some of the damage caused by stress, resulting in a direct clearing, realigning and re-energizing of the chakras and the luminous body. At the time of an Illumination, detection and removal of foreign disharmonious resonances may also occur, which may appear as energetic cords or connections with non-resonant relationships.
Divination & Destiny Retrieval
This is the art of recognizing and helping the client align with their destiny, and to clarify and shift situations, blocks and possibilities. These are very powerful and subtle approaches that can reveal the underlying issues in ways other techniques can miss.
Dense Energy Removal & Extraction of Negative Influences
We often hold the negative experiences and the results of unfortunate encounters with others in our bodies. Fear, envy and anger, and sometimes intrusive energies or entities, can penetrate or be imposed on our luminous energy field. Often, that holding can be experienced in the way that it interferes with our well-being, both emotionally and physically. The held energetics can be a result of stress or it can be the cause as well. The shamanic process of extraction can remove deep-rooted, acute or chronic non-coherent energies - the stressing element - at a deep level, returning the person closer to health and equilibrium.
Rites of Passages & Traditional Ceremonies
The shamanic arts also include profound and beautiful ceremonies that support our growth and transformation at various times in our lives. Such ceremonies consists of initiations or spiritual activations, Despachos, or prayer bundles offered for various types of events, sacred fire ceremonies, and other ceremonious gatherings specifically designed for clearing or removing intense negative energies from the personal and world field.
The Final Rites of Passage: Support for our Final Journey
To assist a person to free themselves and completely disengage from the body's field. Assistance is offered in the weeks before death, at the moment of death and the weeks after death. Assistance to the dying person's loved ones to actively and lovingly support this important process of final transition.
Additional Support:
Spiritual Awakening Support
Direct and knowledgeable support of spiritual awakening issues. Additional support through Hatha Yoga, Breath Work, Meditation and Spiritual Coaching.
Decoupling 'flight/fight' or hyper-alert states
Release of long held habitual, emotional reactions, chakra balancing, polarity balancing and grounding.
Tracking the physical and psychological stories that hold you back
Revelation of wounds which may have manifested as physical or emotional issues. Dream work, guided imagery and shamanic journeying.
Movement and Breath Work

Energetic blockages can be cleared using Hatha Yoga postures, breath work, centering and awareness techniques. These can be initiated with the client, and instruction given to support positive shift.



For more information about Susana's Qualifications

To return to the Index for a larger selection of services

For more information about services and fees
Don't miss the opportunity to shift out of your old life-depleting patterns and move on to your great new life. Experience this healing method as effectively practiced with the lightheartedness and shamanic understanding that Susana Sorí brings
In person Energy Medicine and Life Coaching sessions serving Miami, Miami Beach, Fort Lauderdale and South Florida. Sessions by phone supporting clients locally and internationally.

Request a session

Subscribe to our email list

Return HOME

About Susana

Services & Fees

Contact Information
Graphic images are Copyright © 2000 - 2020 by Roman Oleh Yaworsky. All rights reserved. Titles and text are Copyright © 2000 - 2020 by Susana Sorí. All rights reserved. For more detailed information on our copyright, licensing and for other copyright information pertaining to this website,

click here