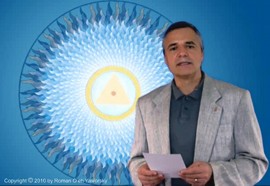 The Nature Influence of the Chakras TM
with Roman Oleh Yaworsky
Saturday and Sunday, June 22, 23, 2019
9:30 am - 6:00 pm

Miami FL
Continuing Education Credits are available: 16 CE hours for Licensed Massage Therapists, CSW, MFT, HC and LMTs, Midwives, Psychologists.
Continuing Education Credits are available: 16 CE hours for Licensed Massage Therapists, CSW, MFT, HC and LMTs, Midwives, Psychologists.
Did you know that there are really two chakra systems? One system is intrinsically a spiritual journey back to source. The other system is the key to our healing, inspiration and inner knowing.
In this unique workshop, Roman Oleh Yaworsky integrates an understanding of both systems and their influence in our lives. This workshop will give you practical understanding and hands-on experience of your chakras and energy field, so that you can begin to access these seven profound places of knowing.
The Nature and Influence of the Chakras addresses our stance in the world from the perspective of our energy and reveals the effect the chakras have on the way we feel on the physical, emotional, mental and spiritual levels.
This is a unique opportunity to learn about the chakra system as it is presented with emphasis to practical application in your life. It removes much of the confusion and bias that is encountered in today's literature, and makes the chakras more assessable, hands on, personal and experiential. Using illustrations especially created for this class, the relationships of the chakras to the body and its dynamics will be explored.
For those seeking deeper knowledge and are on the spiritual path, this workshop will help bridge the practical application of the chakra system into your everyday life. It will introduce you to the way your body, energetic fields and the chakra system holds and stores your emotions and past impressions and how this influences your body, the choices you make, and even your destiny.
For those in the healing professions, the knowledge and insights will help you become more aware of your own dynamics. The practical instructions will show you the ways to clear the residue of past impressions and guide you in moving forward in your choices. This workshop is a great foundation to aid you in your own healing, and to apply that knowledge to support your clients in theirs.
Become more aware of the energetic interactions with others and ways to protect and maintain your energy and state.
This workshop will cover:
•  What the chakras are
•  Where they are located
•  The detailed relationships with the parts of the body
•  How to feel and sense the chakras
•  Using your own chakras as tools for knowing
•  The interaction of your hands with the chakras
•  The effects of interacting with another person's field
•  Protecting yourself while working with a client's field
•  The anatomical, physiological and subtle basis of the chakras
•  The interaction of the chakras to each other
•  A detailed overview of the main 7 chakras
•  The lesser chakras and their role in healing •  Energetic interactions between yourself and others
•  How the chakras store our impressions
•  How the stored impressions are released
•  Strengthening the chakras
Additional information on CE hours and CEU's can be found

at Spirit Unleashed
For more information and registration:

contact HR Shaman

Become part of our email list for advanced notification and special offerings

About Roman Oleh Yaworsky
Roman Oleh Yaworsky adds a wealth of experience as a life coach, healer and author, setting the tone for his client's understanding, healing and transformation. In the last few years, he has created innovative and original workshops to help individuals and corporations to move towards their greater potential.
Roman's latest book: Being Centered, is a practical and innovative guide to reconnecting to one's core, will and power. It is often referred to as a 'life coach in a book'. The book identifies both the obstacles and the opportunities for growth, within an insightful and novel context. Published 2007, SpiritUnleashed TM, Miami.
Roman Oleh Yaworsky has pioneered new approaches to life coaching, healing and support of clients for their positive growth success and transformation. The new approach identifies where and how a client was held back from the full expression of their joy, power and spirit and determines and provides practical means to return to center, balance and full expression.
Let us know if you have any suggestions or requests, or if you are interested in hosting a course or workshop in your area.

Don't miss the opportunity to shift out of your old life-depleting patterns and move on to your great new life. Experience this healing method as effectively practiced with the lightheartedness and shamanic understanding that Susana Sorí brings
In person Energy Medicine Shamanic Healing and Life Coaching sessions serving Miami, Miami Beach, Fort Lauderdale and South Florida. Sessions by phone supporting clients locally and internationally.

Request a session

Subscribe to our email list

Return HOME

About Susana

Services & Fees

Contact Information
Graphic images are Copyright © 2000 - 2020 by Roman Oleh Yaworsky. All rights reserved. Titles and text are Copyright © 2000 - 2020 by Susana Sorí. All rights reserved. For more detailed information on our copyright, licensing and for other copyright information pertaining to this website,

click here