Astrologer
Roman Oleh Yaworsky

Roman Oleh Yaworsky adds his unique energetic perspective to astrology and the healing arts, setting the tone for his client's understanding, healing, and transformation.
He is known for an engaging and dynamic personal style that draws on his very comprehensive background in the sciences, art, energy medicine, spiritual and shamanic traditions.
• A new approach turns astrology into a healing system
The new focus identifies where and how a client was held back from the full expression of their spirit and determines and provides practical means to return to center, balance and full expression.
• Commercial astrology software development
Roman is one of those rare astrologers who does not just use astrology software - he has also written and designed software from the ground up, giving him a comprehensive understanding of his craft and its applications.
• A scientific approach
Part of the power of Roman's approach is that he bases his client sessions and the material presented in his courses and workshops on material that has been tested through direct personal experience - and it encourages the same in his clients and students.
Spiritual and Healing Background
• Shamanic practitioner
Established in Inca healing tradition. Direct clearing, realigning and re-energizing of the chakras and energetic field.
• Holographic Repatterning®, Resonance Repatterning®
Detection and removal of disharmonious resonances and emotional patterns.
• Extensive background in meditation and yoga
Roman's spiritual experience began with Tibetan Buddhism at the age of 15, and has extended in the last several decades to Kashmir Shaivism and the western and native spiritual traditions of the Americas.
Publications
Being Centered
TM

.

A practical and innovative guide to reconnecting to spirit through the heart. It identifies both the obstacles and opportunities for growth within a spiritual context. Published 2007, SpiritUnleashed TM, Miami.

more

Powerful Light Astrology TM Natal Report & Report Writer
This 35 page report was developed by Roman to compliment his astrology natal readings with his clients. It is both comprehensive in scope and goes into greater depth and practical solutions than is typical of an astrological report.

more
Powerful Light Astrology TM Transit Report & Report Writer
This report provides an understanding of the gifts and opportunities that underlie the events and challenges in your life. It was created to compliment the yearly reviews and forecasts that Roman provides his astrology clients.

more

The Graphic Astrologer TM
A resource for astrologers, focusing on graphical techniques for chart synthesis and analysis. Originally published 1991,Toronto. Currently out of print.
Formal Education
Medical Illustration, B.Sc. AAM, University of Toronto
Biochemistry H.B.Sc., University of Western Ontario
Ontario College of Art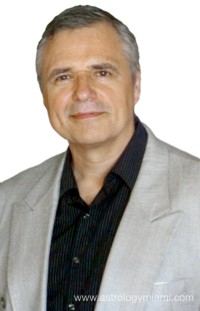 Roman Oleh Yaworsky
Master Astrologer
Energy Healer
Life Coach


What is a master astrologer?

"Astrology goes beyond the fundamentals of techniques
and outer knowledge.

At its roots, it is a spiritual science that reveals our relationship with spirit and
how we co-create the universe around us.

To truly master astrology is to unlock its inner key from that place."
"I welcome the opportunity to help you advance in your life, career or business.


Person to person sessions serving Miami
and South Florida
as well as sessions by phone.



Contact for a session