Completion of the Previous Mercury Retrograde Cycle in Sagittarius
January holds the tail end of the pervious Mercury Retrograde in December.
Post-Shadow ends on January 10 at 4:31 pm Universal Time (11:31 am, EST).
March 2018 Mercury Retrograde in Aries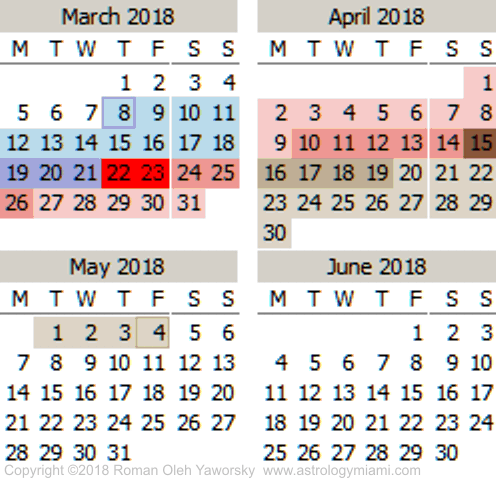 Pre-Shadow begins on March 8 at 10:54 pm EST, and March 9 at 3:54 am UTC*.
Mercury Retrograde Station: 00:19 am UTC*, on March 23, 2018 in Aries (16o 54"), and March 22 at 7:19 pm EST
Mercury goes direct on April 15 at 9:21 am UTC*, in Aries (4o 47")
Post-Shadow ends on May 3 at 8:59 pm UTC*, 4:59 EDT.
July 2018 Mercury Retrograde in Leo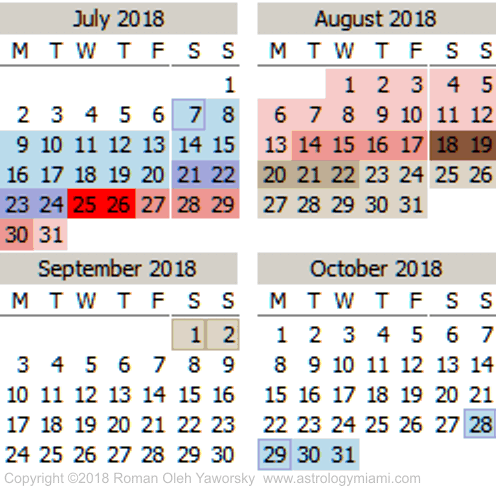 Pre-Shadow begins at 2:35 pm UTC* on July 7.
Mercury Retrograde station: 5:02 am UTC*, on July 26, in Leo (23o 27"). Note that on the US west coast, the station occurs on the evening of July 25.
Mercury goes direct 4:25 am UTC* on August 19 and the late evening of August 18 on the US west coast.
Post Shadow ends on September 2 at 1:37 am UTC*, 9:37 pm EDT on September 1.
November Mercury Retrograde in Sagittarius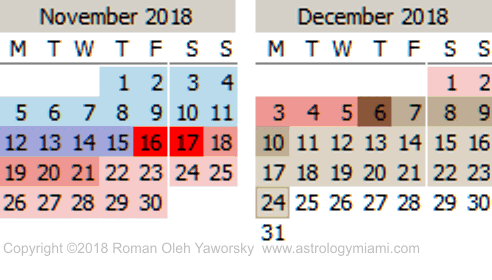 Mercury rules Gemini, while Sagittarius, the opposite sign is its shadow, and the placement of this retrograde. Sagittarius involves us in international trade and expansion and it also governs the courts. Challenges, disclosures and revelations in both are likely to come to the surface. The previous December 2017, retrograde in Sagittarius presented a clash between the US and the United Nations.
Pre-Shadow begins in Scorpio on October 29 at 12:50 am UTC* (October 28 at 8:50 pm EDT) shown on the preceding chart.
Mercury Retrograde Station is in Sagittarius (13o 30")at 1:33 am UTC* on November 17 and 9:33 pm EST on November 18.
Mercury goes direct at 9:22 pm UTC* on December 6 in Scorpio (27o 16").
The Post-Shadow ends on December 24, 2018 at 11:26 am UTC*.