January 2017 The second half of the previous year's retrograde in Capricorn
The first Mercury Retrograde for 2016 occurs in the sign Aquarius (1o 3" ) on January 5 at 1:05 pm Greenwich or Universal Time, 8:05 am Eastern Time and 5:05 am Pacific Time.

Mercury enters Direct Station in Capricorn (14o 55") on January 25 at 9:50 pm Universal Time, 4:50 pm Eastern Time and 1:50 pm Pacific Time.

Mercury first enters the Pre-Shadow on Dec 19 2015, the previous year, and is last in the Post-Shadow on Feb 14 2016.
April 2017 Retrograde in Taurus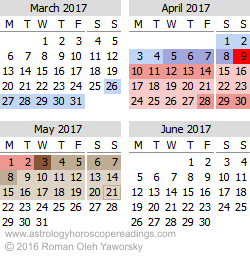 Mercury goes retrograde at 11:14 pm UTC*, on April 9, in Taurus (4o 51"). It does not go direct until May 3 at 4:22 pm UTC*, in Aries (24o 16"). For this retrograde cycle, the Pre-Shadow began on March 27 at 4:48 am UTC*, and the complete cycle finally ends with the Post-Shadow on May 21 at 12:58 am UTC*.

August 2017 Mercury Retrograde in Virgo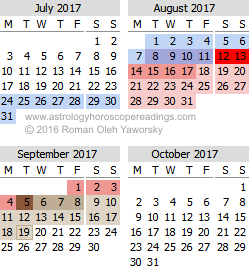 The Pre-Shadow at 3:13 pm UTC* on July 24. The Mercury Retrograde station occurs at 1:00 am UTC*, on August 13, in Virgo (11o38"). In North America, this actually occurs on evening of August 12. Mercury Direct station occurs at 11:29 am Greenwich time on September 5 in Leo (28o25"). Finally, Mercury leaves the Post-Shadow at 3:59 pm UTC* on September 19.
Mercury rules Virgo, so the effect is likely to be more pronounced for this cycle!
December 2017 Mercury Retrograde in Sagittarius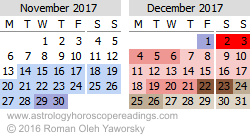 The Pre-Shadow begins at 1:49 am UTC* on November 15. Mercury Retrograde begins at 7:34 am UTC* on December 3 in Sagittarius (29o18"). On the West Coast of the US, it will occur at 11:34 pm on December 2. Mercury goes direct at 1:51 am UTC* on December 23 in Sagittarius (13o00"). In North America it would occur in the evening of December 22. Finally, the Post-Shadow ends on January 10, 2018 at 4:31 pm UTC*.

As with the previous cycle, this one is also likely to be more pronounced because Mercury rules the shadow of Sagittarius, Gemini.



Please note that all times are approximate. The actual times are defined by the observer location and vary due to parallax

"